Major Facts You Need to Know
The nursing profession has a lot of significance in the Australian region. The whole continent offers commendable training centers and degree programs in universities related to nursing. Apart from its less importance and not so much value in other regions (underdeveloped or third world countries), Australian nation gives a lot of respect and amenities to the nurses. Getting a job of nurse is definitely not so much simple in Australia. And you have to know how to write any nursing paper.
One has to pass numerous exams, interviews and need to develop an attractive portfolio. Presenting the personal info/skill in the exact way of collating and keeping records is said to be as time-taking as well as onerous task. From the personal bio-data to the educational achievements, everything needs to be included in a proper format for making your portfolio noticeable in front of the employers. Nursing portfolio Australia looks quite close to the resumes. However, these are considered as more concise type of resume based on hardly two pages.
Techniques to Handle in Australian Nursing Portfolio
When you begin to write nursing portfolio or job resume, make sure that you follow the sample/template from any trusted source. Most of the employers and professional staff that check resumes feel quite annoyance due to the bad formatting and layout of portfolios. If you're good at it, try to keep the portfolio simple. Otherwise, hire an expert for the best formatting of your page. The alignments, font size, style, borders bullet points and many other small things sound easy to tackle on the page.
But in actual, these minor elements can spoil your whole nursing portfolio by lessening the chances of landing desired job. Another important technique required to brighten up the chances of getting job by creating best nursing portfolio is to add whatever the requirements are. For example, the fresh graduates in nursing program should try to make their portfolio more attractive by adding the section of 'Skills' instead of 'Work Experience'.

Nursing Portfolio Template Australia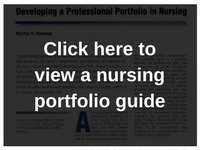 Every nursing portfolio template Australia you see on internet isn't best to rely indeed. You need to search the same thing on different sources including books, articles and the portfolios written by professionals. Here is a highly professional, trusted and simple template of nursing portfolio in Australia. Have a look at these points to write an engaging nursing portfolio.
On the top of page's center, you need to start writing it by adding the name, contact details, phone number and email address.
Then, start the portfolio by writing your objective for sharing your aim of serving best care to the patients throughout your life. Write an objective based on two to three lines.
Write the prior work experience. If you're fresh graduate, then share your skills by replacing the title with 'Personal Skills'.
The third section is comprised of education. Here, you're required to add all the details related to your education history.
End it up by including the certifications and licensures.
Expert Nurses Give This Advice
When you write a nursing portfolio, don't mess it up ever. Keep the format simple without adding too much text and filler words. Keep your focus more on the recent education details and give adequate space to write about prior 'Work Experience'. Never miss even the work experience of one month in any clinic/hospital.
Click here and get to know how to write nursing portfolio UK!
Facing Trouble in Writing? Then, Hire Us Now!
It is not quite surprising thing that you are unable to write nursing portfolio despite studying it so many times. It is common even among many professionals. So, don't feel worried and hire our well-qualified and mastered writers for the portfolio writing services. Our team create up-to-the-mark and error-free Australian nursing portfolios that you can't imagine to write ever. Contact us right now.
A portfolio may contain this actual evidence and structure you need to consider for writing in future. Learn the valuable details to add in the nursing portfolio for getting desired job now.