Nursing Case Studies – Quality Solutions for Any Subject
Get comprehensive help with nurses case studies from subject-relevant experts.
Calculate Now
Order via chat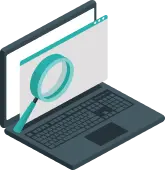 Turnitin-ready texts
Plagiarism can create a lot of trouble for students. So we check every paper twice with advanced anti-plagiarism software to ensure its 100% originality.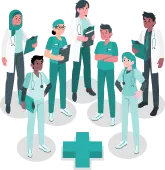 Degree-holding nursing experts
Only practiced & well-educated experts can perform writing tasks in nursing well. Therefore, we cooperate with the best pros with either MS or PhD degrees.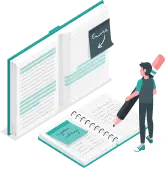 Specializing in nursing
Our writing service is focused on the nursing field exclusively, and all the writers are experienced professionals from a multitude of nursing subjects.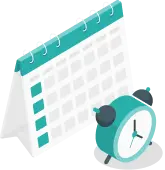 Anytime, on time
We know how timely delivery is critical to learners, so we always ensure to finish orders before the deadline. No matter what you have, we'll do it on time.
Why clients trust us
Delegating us your nursing case studies, you can count on the best quality supported by these benefits.
Order via chat
Get the Best Nursing Case Studies Writing Service
A case study is a detailed analysis of a specific situation, event, or person. In the medical field, they often focus on a patient or group of patients with a particular medical condition or disease. So writing a medical case study is directly related to examining the causes, symptoms, treatments, and outcomes of an individual issue.
This report represents a real-world example of how a problem was solved or how a particular situation was managed. It provides a detailed account of the steps taken to resolve a particular issue, the challenges faced, and the outcomes achieved. In the medical field, case studies represent valuable sources of information on patient care, treatment outcomes, and medical research.
Why Are Case Studies Important in the Medical Field?
With the help of case studies in nursing, healthcare practitioners can gain invaluable insights into the best procedures for treating patients and any potential complications and treatment outcomes by studying real-life situations. By effectively using this knowledge, they will be able to offer more effective care that could save lives.
Benefits of Case Study Nursing
Real-world Examples: Case study reports provide real-world examples of how a particular problem was solved or managed.
Detailed Insights: These reports provide healthcare professionals with detailed information about a specific patient's medical history, symptoms, diagnosis, treatment, and results. This information can help healthcare professionals to understand better a disease, condition, or treatment being studied. For example, a report on a patient with a rare disease can provide valuable information on how to diagnose and treat the disease.
Evidence-Based Practice: Nursing case studies for students can contribute to medical research by providing valuable data on individual patient situations. This data can be used to develop new treatments and improve existing ones. Additionally, case studies can provide insights into the effectiveness of different treatments in specific patient populations. For example, a report on a patient with a specific genetic mutation can provide information on how that mutation affects the results of treatment.
Education: These reports provide a way to share information about rare or unusual medical conditions, allowing medical professionals to learn from each other's experiences and improve patient care.
Marketing: They are often used as marketing tools to demonstrate the effectiveness of a particular product or service.
Limitations of Nursing Case Studies
Case studies also have some limitations, including:
Find out the price for the nursing case studies


Money-back guarantee
If the nursing case study doesn't correspond to our quality standards or doesn't adhere to your instructions, you'll get a refund.


Complete confidentiality
Chat with an expert anonymously, be sure of our secret cooperation, and don't be afraid that your data will be shared with anyone!


14 days of free revisions
After experts finish your nursing case study writing, you'll get two weeks of cost-free amendments.


Chat with your writer
You can discuss all the assignment details with your writer directly in chat. It's available 24/7 absolutely for free.
Limited Generalizability: Since they focus on individual patients, the findings may not be applicable to a broader patient population. For example, a report on a patient with a rare disease may not be applicable to patients with more common diseases.
Subjectivity: Case studies for nursing students are often conducted by healthcare professionals who have a vested interest in the outcome. This can lead to potential biases in the data collected and analyzed. For example, a report on a new drug may be run by a pharmaceutical company, which could lead to bias in the results.
Ethical Concerns: There are ethical considerations when conducting case studies, particularly when it comes to patient privacy and confidentiality. Healthcare professionals must obtain informed consent from the patient before creating a case report. Additionally, they must ensure that the patient's identity is protected throughout the report.
What Makes a Good Nursing Case Study?
There are a few key elements that can make all the difference in creating a nursing case study that resonates with your audience.
Clear and concise presentation: Good nurses case studies should present information in a concise manner. This means using straightforward and jargon-free language while also providing enough detail to give readers a comprehensive understanding of the subject.
Thorough research and analysis: This includes gathering relevant data, reviewing patient charts, and interviewing healthcare professionals involved in the case. By doing so, you're able to create a study that is both informative and insightful.
Emphasis on patient outcomes: A good report should emphasize patient outcomes, highlighting how the nursing interventions implemented improved the patient's condition or quality of life. This can help readers understand the impact of nursing care on patient health and well-being.
Attention to ethical considerations: The researcher must ensure patient privacy and confidentiality are maintained, obtain informed consent from patients or their families, and avoid any conflicts of interest that could compromise the integrity of the report.
Use of visual aids: Including visual aids such as charts, graphs, and images can help readers better understand the case and the nursing interventions implemented.
Nursing Case Study Examples
Nursing case study examples are excellent tools to allow students to put their knowledge and expertise into practice in a real-world context. They are especially helpful for complex, hard-to-solve issues with unclear solutions. Let's take a look at one of the case study nursing examples for nursing students below:
Pediatric Case Studies for Nursing Students
Pediatric studies are in-depth examinations of specific situations involving children, including their medical history, diagnosis, treatment, and overall progress. They provide nursing students with an opportunity to gain real-world experience and develop critical thinking and problem-solving skills by analyzing complex scenarios.
Through these case studies, nursing students are able to learn to assess and prioritize the needs of their patients, identify potential health issues, and develop appropriate care plans.
Mental Health Case Studies for Nursing Students
Nursing students have an unparalleled opportunity to apply their understanding of mental health issues in real-world situations by studying diverse mental health case studies. Through these reports, they're able to observe and analyze patients struggling with emotional distress, such as depression, anxiety disorder, bipolar disorder, schizophrenia, and other psychological ailments, before constructing treatment plans for them.
Medical Surgical Nursing Case Studies for Nursing Students
As a nursing student, it is typical to come across a range of medical cases that require surgery. Medical surgical nursing case studies are necessary for students to learn about the procedures and understand the various approaches taken to treat patients with different medical conditions.
Case studies nursing are detailed descriptions of patient medical histories, including symptoms, diagnoses, and treatment procedures. They're used to provide students with examples of real-life situations that healthcare providers face daily. These case studies are often presented in a problem-solving format that allows students to apply their knowledge and skills to identify possible diagnoses, develop treatment plans, and evaluate patient outcomes.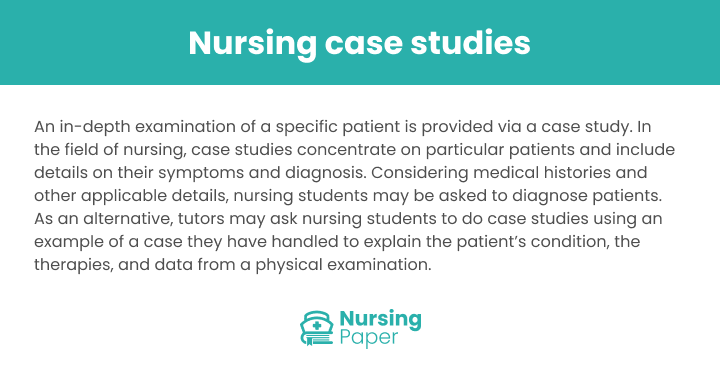 Steps to Creating Nurses Case Studies
Identifying a Suitable Case
To carry out nurse case studies, the first step is to identify a suitable case. The selection should be based on the research objectives, the nature of the medical condition, and the availability of data. A suitable subject should have a complex medical history, multiple treatment interventions, and measurable outcomes.
For example, a suitable subject would be cancer case studies for nursing students, as cancer presents a broad range of symptoms and treatments. Examining the medical history can provide a deeper understanding of the disease process, patient care strategies, and evidence-based practices for improving outcomes.
Another example is pediatric case studies for nursing students, which often involve multiple treatments providing an ideal platform for learning about patient safety and prevention strategies.
Mental health case studies for nursing students can offer insight into the complexities of mental health conditions, as well as interventions for managing psychiatric symptoms.
No matter what type of report you are considering, it is important to get all the relevant facts before making a decision. This includes information on the patient's physical condition and medical history, as well as any treatments that have been administered.
Collecting Relevant Data
Once a suitable subject has been identified, the next step is to collect relevant data. Data collection can involve multiple sources, including medical records, interviews with patients and their family members, observations of their behavior, and laboratory test results. It's important to ensure that the data collected is comprehensive, accurate, and relevant to the research objectives.
Analyzing the Data
After collecting the data, the next step is to analyze it. Data analysis involves the identification of patterns, relationships, and trends in the data. It can be useful to organize the data into categories or themes to aid in the analysis process.
Developing the Narrative
Once the data has been analyzed, the next step is to develop the case study narrative. The narrative should clearly, concisely, and accurately describe the patient's medical history, treatment interventions, and outcomes. It should be written in a way that is accessible to a wide range of medical practitioners, including nurses, doctors, and other healthcare professionals.
Drawing Conclusions and Making Recommendations
The final step in carrying out a case report in the medical nursing field is to draw conclusions and make recommendations. You can check case study examples for nursing students and online nursing papers on the best way to draw conclusions. Typically, the conclusions should be based on the data analysis and should provide insights into the effectiveness of the treatment interventions. The recommendations should be evidence-based and should provide guidance on the best treatment approaches for similar cases.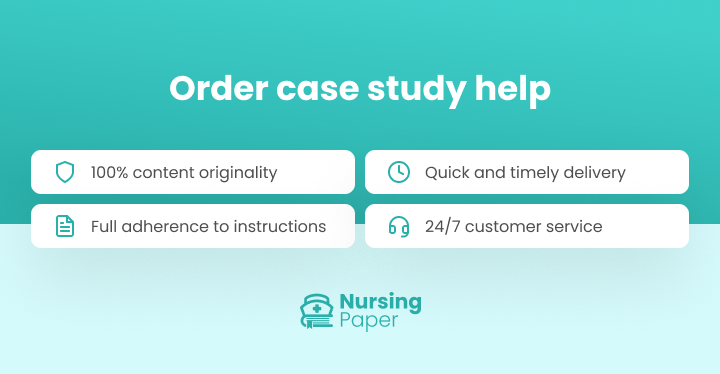 Our service offers high-quality nursing case report paper types that are tailored to your needs. So whether you need help starting your nursing report or you want us to handle the whole project, we're readily available to help. Contact us now to learn more!