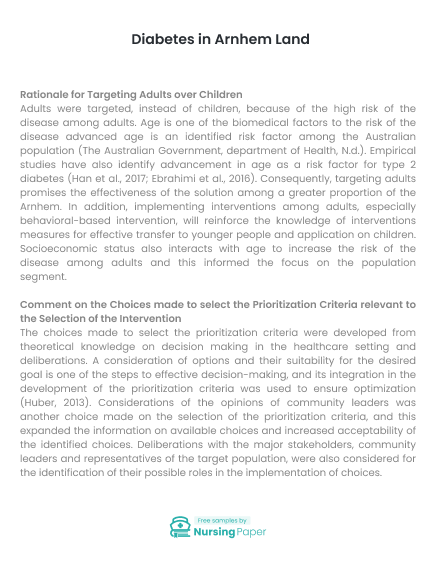 Diabetes in Arnhem Land
Number of words/pages: 404 words/2 pages
Download for free
This essay sample was donated by a student to help the academic community
Rationale for Targeting Adults over Children
Adults were targeted, instead of children, because of the high risk of the disease among adults. Age is one of the biomedical factors to the risk of the disease advanced age is an identified risk factor among the Australian population (The Australian Government, department of Health, N.d.). Empirical studies have also identify advancement in age as a risk factor for type 2 diabetes (Han et al., 2017; Ebrahimi et al., 2016). Consequently, targeting adults promises the effectiveness of the solution among a greater proportion of the Arnhem. In addition, implementing interventions among adults, especially behavioral-based intervention, will reinforce the knowledge of interventions measures for effective transfer to younger people and application on children. Socioeconomic status also interacts with age to increase the risk of the disease among adults and this informed the focus on the population segment.
Comment on the Choices made to select the Prioritization Criteria relevant to the Selection of the Intervention
The choices made to select the prioritization criteria were developed from theoretical knowledge on decision making in the healthcare setting and deliberations. A consideration of options and their suitability for the desired goal is one of the steps to effective decision-making, and its integration in the development of the prioritization criteria was used to ensure optimization (Huber, 2013). Considerations of the opinions of community leaders was another choice made on the selection of the prioritization criteria, and this expanded the information on available choices and increased acceptability of the identified choices. Deliberations with the major stakeholders, community leaders and representatives of the target population, were also considered for the identification of their possible roles in the implementation of choices.
1. Ebrahimi, H, Emamian, M, Hashemi, H, & Fotouhi, A 2016, 'High incidence of diabetes mellitus among a middle-aged population in Iran: A longitudinal study,' The Canadian Journal of Diabetes, Vol. 40, No. 6, pp. 570-575.
2. Han, S, Kim, H, Kim, D, Lee, K, Cho, N 2017, 'Incidence and predictors of type 2 diabetes among Koreans: A 12-year follow up of the Korean Genome and Epidemiology
3. Study,' The Diabetes Research & Clinical Practice, Vol. 123, pp. 173-180.
4. Huber, D 2013, Leadership and nursing care management, Elsevier Health Sciences, St. Louis.
5. The Australian Government, department of Health N.d, Diabetes, The Australian Government, department of Health, Viewed 18 October 2017, < http://www.health.gov.au/internet/main/publishing.nsf/content/chronic-diabetes#ris >.
Download Sample
Note: this paper is publicly available & won't pass Turnitin. It can be used just for inspiration.

Thank you!
The download will start shortly.


We can write an original paper on this topic according to your instructions.
Order unique paper
Download