Guidance to Becoming a Nurse: Are Nurses in Demand?
Why You Need to Take Steps to Becoming a Nurse Expert
There are no unimportant professions in the world. Every useful work brings some result. We believe that many will agree that one of the most significant is the profession of a doctor. A doctor and a nurse are noble people who help others. Sometimes health or even life depends on their competent actions.
Although the profession of a nurse as an independent one arose relatively recently – in the 19th century, the functions of a nurse, related to caring about others, and providing assistance to the sick, have always been performed. This was done by women as guardians of the family hearth.
Nowadays, this profession has not lost its relevance, but it is only becoming one of the most in-demand. Almost every medical institution is seeking employees with such qualifications, so the chances of becoming well-employed are quite high. So, to learn more about how to become a nurse and what are the steps to becoming a nurse, continue reading this article.
Answer to What Are the Steps to Becoming a Nurse Specialist
Here are some steps to becoming a nurse that you need to go through.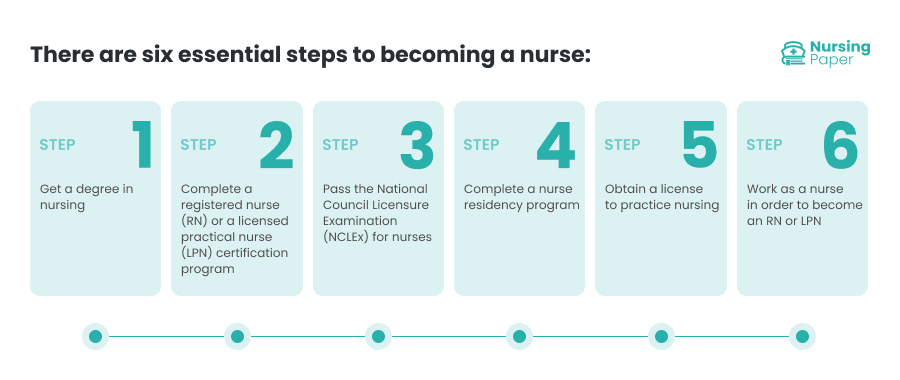 Step #1: Make an informed decision about becoming an RN. You must be certain whether you truly want to work in this field. Make sure that you have the necessary character traits that are important to becoming a medical worker. After all, becoming a nurse requires a person to be compassionate, attentive, kind, and polite. Apart from that, she must be morally stable. Unfortunately, not always and not all diseases are curable, so where there is birth, there is also death. Ask yourself, is becoming a nursing specialist real for you?
Step #2: Choose your specification if you are interested in becoming an RN. Nursing is a tremendously diverse field that may take you to many different areas. For example, you can start as a nurse's aide (CNA) and work your way up to becoming a nurse or becoming a nurse administrator (RN).
Step #3: Get a degree. A finished education and a specialist or bachelor's degree are required from any job, but especially for an RN. The sort of degree you will require is largely determined by the job route you choose to pursue. Whatever path you take to becoming an RN, your education program must be accredited. Otherwise, it may have an impact on your job chances.
Step #4: Obtaining a license. Obtaining a bachelor's degree does not imply that you will be able to work immediately. You must now obtain your nursing license. After finishing your course, you will need to pass a test to demonstrate your nursing knowledge and abilities. An NCLEX-RN license is required from nurses, although each sort of nurse requires a distinct license. As a result, they have separate licensure exams and state certification criteria.
Step #5: Continue studying even after becoming a nursing expert. If you want to be an excellent expert, you must never stop learning after becoming a professional. The healthcare business is continually expanding with new technology and treatments. As a result, RNs must be informed on the most recent subjects in order to stay competent experts in their area. Maintaining certifications through a variety of courses is a smart habit if you are interested in becoming an RN. It should be done once a year, but it can be done more frequently.
Thinking About Becoming a Registered Nurse? Here's How!
Becoming a nurse requires you to go through the same way as if you want to be an ordinary nurse. However, there are some other requirements for becoming a nurse. We will talk about them now.
An associate degree in nursing, or ADN, is necessary for a nurse. The two programs differ in several ways. ADN programs are practical. The vast majority of them are designed to educate pupils on technical skills. Such education and training are required for becoming an entry-level nurse.
Following completion of your undergraduate education on your path to becoming a nurse, you must get your license and pass the NCLEX-RN test. Any aspiring nurse must pass the NCLEX (National Council Licensure Examination). You will be able to take the NCLEX-RN test if you have an ADN or BSN. The NCLEX-RN exam consists of 75-145 questions designed to test your knowledge of all aspects of nursing. We encourage you to devote as much time and effort to your preparation as possible because this is one of the essential tests you will take.
Crucial Steps to Becoming a Pediatric Nurse Expert
To comprehend the intricacies of a pediatric RN. Pediatric nursing is a specialty that demands the capacity to interact with children not only in words but also in conduct. If you can envision an environment where there are infants, children, and teens around, and all you can think about is joy, then this specialty is suitable. Here are the main steps to becoming a pediatric nurse specialist:
Getting a nursing degree. You must have an associate's or bachelor's degree as well as an Associate of Science in Nursing (ASN) degree to do so.
Passing the NCLEX-RN test. The NCLEX test is required for becoming RNs and vocational nurses.
Registered Nurse Training (RN). The procedures for becoming a registered nurse are outlined here.
Working at a pediatric institution to get experience. A minimum of 1,800 hours of clinical experience in pediatrics over a two-year period is required for certification as a pediatric nurse.
Passing the exams to become a Certified Pediatric Nurse Practitioner (CPN). RNs with the necessary clinical experience are eligible to take the CPN test. RNs with an M.S. or D.N.P degree may sit for the Certified Pediatric Nurse Practitioner – Primary Care or Certified Pediatric Nurse Practitioner – Emergency Care examinations.
Well, Is Becoming a Nurse Hard? Get to Know This Below!
It is unique to each individual because of the numerous physical and moral aspects that influence it. Nothing will stand in your way if you truly desire it and it was your dream. However, you should be aware that becoming a nursing specialist can be physically demanding around the clock.
You must be attentive to everything and on your feet all day if you are interested in becoming an RN. The moral component is equally important because there are people who lose every opportunity because of themselves. If you are this type of person, becoming a nurse is probably not for you.
Although a nurse must be sensitive and empathic, you cannot perform successfully if you experience each patient's condition. If you will ask, is becoming a nurse hard and is becoming a nurse worth it? Definitely yes! Despite all these cons of becoming a nurse, with such a profession, you can always be certain that you are not simply surviving but doing the most good for our community.
Taking Steps to Becoming a Nurse After High School Studies
If right after graduation, you are lucky enough to know which career you want to pursue, here are the steps to becoming a nurse after high school studies:
Enroll in a recognized nursing school. Choose a program that has been accredited and recognized by the appropriate authorities. This is a required prerequisite for the further legalization of your work.
Take the National Council for Registered Nurse Exam (NCLEX-RN). Becoming a nurse only becomes possible after passing the exam. This is a test of your information gained while attending university.
Get a work permit. Please keep in mind that you may only start becoming a nurse officially after passing the NCLEX-RN.
Apply for the job. Once you get your license, you will be eligible to apply for positions in hospitals and medical facilities.
Now you have all the needed information about becoming a nurse. Just apply all the tips from this article and start a journey to your dream career.