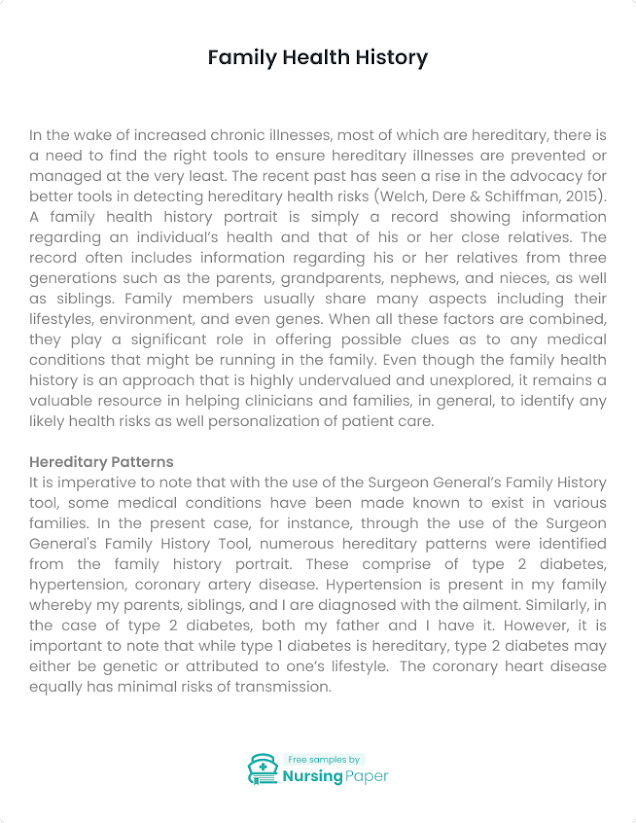 Family Health History
Number of words/pages: 934 words/4 pages
Download for free
This essay sample was donated by a student to help the academic community
Introduction
In the wake of increased chronic illnesses, most of which are hereditary, there is a need to find the right tools to ensure hereditary illnesses are prevented or managed at the very least. The recent past has seen a rise in the advocacy for better tools in detecting hereditary health risks (Welch, Dere & Schiffman, 2015). A family health history portrait is simply a record showing information regarding an individual's health and that of his or her close relatives. The record often includes information regarding his or her relatives from three generations such as the parents, grandparents, nephews, and nieces, as well as siblings. Family members usually share many aspects including their lifestyles, environment, and even genes. When all these factors are combined, they play a significant role in offering possible clues as to any medical conditions that might be running in the family. Even though the family health history is an approach that is highly undervalued and unexplored, it remains a valuable resource in helping clinicians and families, in general, to identify any likely health risks as well personalization of patient care.
Hereditary Patterns
It is imperative to note that with the use of the Surgeon General's Family History tool, some medical conditions have been made known to exist in various families. In the present case, for instance, through the use of the Surgeon General's Family History Tool, numerous hereditary patterns were identified from the family history portrait. These comprise of type 2 diabetes, hypertension, coronary artery disease. Hypertension is present in my family whereby my parents, siblings, and I are diagnosed with the ailment. Similarly, in the case of type 2 diabetes, both my father and I have it. However, it is important to note that while type 1 diabetes is hereditary, type 2 diabetes may either be genetic or attributed to one's lifestyle. The coronary heart disease equally has minimal risks of transmission.
Risk of Transmission
In the identified hereditary patterns, there are very minimal chances that the hereditary diseases identified will be transmitted to other family members that are already part of the family. In the case of new family members who may be born into the family, there are high risks of transmission of conditions such as hypertension. For instance, every family member in my immediate family shows a history of hypertension. It is likely, therefore, that my offspring and that of my siblings are likely to be diagnosed with hypertension. In the case of type 2 diabetes, however, the risks of transmission to new members is minimal. This is, more so, due to the fact type 2 diabetes is often attributed to one's lifestyle. Equally, the transmission risks are minimal because in the entire family only two members have type 2 diabetes.
The tool enables the systematic approach in both the collection and documentation of a detailed health history of a family. As such the screening, identification and tracking of persons that are at risk of developing certain conditions is made more possible (Thompson et al., 2015). Consequently, genetic screening is enhanced as preventive measures and genetic testing is preferred. Essentially, the tool is capable of enabling family members make health decisions regarding managing or treating certain health conditions easily before they escalate to unmanageable levels. The Surgeon General's Family History Tool therefore is valuable in easing the process of organizing family health information and identifying any health problems running in an individual's family. There is a wide gap between what many American families are aware of regarding their health and that of their families, and what they ought to know. Chronic illnesses for instance are among the leading cause of death. Even though most of these chronic illnesses are indicative of hereditary factors, most are preventable even though with simple healthy steps only if they were known. Surgeon General's Family History Tool is therefore very feasible in terms of its application and efficiency. As noted by Nussbaum, McInnes & Willard (2015), when it comes to genetics, the basic step in analyzing a disorder is have a comprehensive history of a family. Such history is integral to proper diagnosis and in showing a condition is hereditary or not.
Feasibility of Using the Surgeon General's Family History Tool
In my practice, there is high feasibility in the use of the Surgeon General's Family History. The tool will ease my healthcare provision to my patients and families. One challenge in the healthcare service delivery is the difficulty in arriving at the proper diagnosis without undergoing a lengthy process. This is more so due to lack of adequate information on a patient's family history.
Conclusion
In conclusion, there is an obvious need for the reliance on better tools to identify health risks within families. The use of tools such as the Surgeon General's Family History tool has remarkably improved the collection and documentation regarding families' history. One notable positive feature is the tool's convenience making it easily usable. It is worth noting though such tools remain underutilized, their use holds significant potential in improving the health of families while preventing certain conditions early enough.
1. Nussbaum, R. L., McInnes, R. R., & Willard, H. F. (2015). Thompson & Thompson Genetics in Medicine E-Book. Elsevier Health Sciences.
2. Thompson, T., Seo, J., Griffith, J., Baxter, M., James, A., & Kaphingst, K. A. (2015). The context of collecting family health history: examining definitions of family and family communication about health among African American women. Journal of Health Communication, 20(4), 416-423.
3. Welch, B., Dere, W., & Schiffman, J. (2015). Family Health History: The Case for Better Tools. JAMA, 313(17), 1711. doi: 10.1001/jama.2015.2417
Download Sample
Note: this paper is publicly available & won't pass Turnitin. It can be used just for inspiration.

Thank you!
The download will start shortly.


We can write an original paper on this topic according to your instructions.
Order unique paper
Download