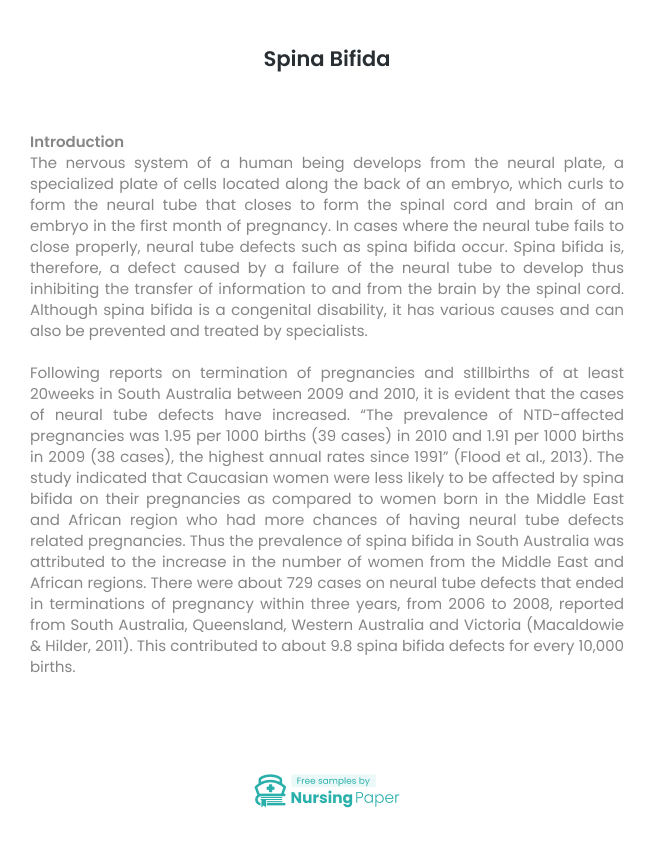 Spina Bifida
Number of words/pages: 902 words/4 pages
Download for free
This essay sample was donated by a student to help the academic community
Introduction
The nervous system of a human being develops from the neural plate, a specialized plate of cells located along the back of an embryo, which curls to form the neural tube that closes to form the spinal cord and brain of an embryo in the first month of pregnancy. In cases where the neural tube fails to close properly, neural tube defects such as spina bifida occur. Spina bifida is, therefore, a defect caused by a failure of the neural tube to develop thus inhibiting the transfer of information to and from the brain by the spinal cord. Although spina bifida is a congenital disability, it has various causes and can also be prevented and treated by specialists.
Following reports on termination of pregnancies and stillbirths of at least 20weeks in South Australia between 2009 and 2010, it is evident that the cases of neural tube defects have increased. "The prevalence of NTD-affected pregnancies was 1.95 per 1000 births (39 cases) in 2010 and 1.91 per 1000 births in 2009 (38 cases), the highest annual rates since 1991" (Flood et al., 2013). The study indicated that Caucasian women were less likely to be affected by spina bifida on their pregnancies as compared to women born in the Middle East and African region who had more chances of having neural tube defects related pregnancies. Thus the prevalence of spina bifida in South Australia was attributed to the increase in the number of women from the Middle East and African regions. There were about 729 cases on neural tube defects that ended in terminations of pregnancy within three years, from 2006 to 2008, reported from South Australia, Queensland, Western Australia and Victoria (Macaldowie & Hilder, 2011). This contributed to about 9.8 spina bifida defects for every 10,000 births.
The prevalence estimates of children and adults suffering from spina bifida in the United States varied according to race, region, age groups and gender which suggest possible prevalence at birth and the rate of survival. A study was conducted according to race for the prevalence estimates among children. The spina bifida prevalence among children 0-11 years of age showed an annual average consistent decrease of 1.4% between the years 1991-2002 (Fletcher, & Brei, 2010)). The age group prevalence for spina bifida between 0-11years of age recorded a significant survival rate. The prevalence rates were higher on children 4 to 7 years of age than in older age groups. The prevalence of spina bifida was significantly higher in black children than in white children. However, the spina bifida prevalence in adolescents and among children was higher among girls than among boys in all racial groups. The survival rates within one year of the spina bifida children between the whites and blacks had no significant difference as both races had almost equal survival rates.
The severity of the condition determines the treatment method of spina bifida. In cases where the condition is not complicated, surgery before birth is considered to be the most effective method for its treatment since the nerve function in babies with spina bifida, if not treated, can worsen after birth. The surgery usually takes place before the 26th week of pregnancy where a mother's uterus is opened surgically, and the baby's spinal cord is repaired (MFMER, 2018). This treatment helps reduce the effects of spina bifida, and the child is less likely to use walking devices. In complicated cases where the effect has already occurred and resulted in complications such as bowel problems, weak legs, and bladder, the treatment begins after birth. After birth, treatments include walking and mobility aids where a child is trained to use crutches or even wheelchairs to be independent in their movements. Bowel and bladder management treatments include X-rays, blood tests band ultrasound evaluations frequently conducted in the first few years of a child's life. To help the child affected with functioning, they are provided with special bath chairs and standing frames to improve their quality of life.
Conclusion
The occurrence of spina bifida condition is natural and there is little to be done to stop the condition from occurring. The condition is also not as common as the related births to spina bifida are not common with very few cases. However, some cases of the spina bifida defect can be treated, and the affected child is assured of walking without the support of walking devices even though more complicated effects have no assurance of the child walking but only by the help of walking devices. Regardless, the treatments and surgeries performed by a neurosurgeon on the spina bifida affected children provide hope to the children and families as they improve their quality of life and give them better chances for survival.
1. Fletcher, J., & Brei, T. (2010). Introduction: Spina bifida-A multidisciplinary perspective. Developmental Disabilities Research Reviews, 16(1), 1-5.
2. Flood, L., Scheil, W., Nguyen, A., Sage, L., & Scott, J. (2013). An increase in neural tube defects in South Australia, 2009-2010. Western Pacific Surveillance And Response Journal, 4(3), 34-43.
3. Macaldowie, A. & Hilder, L. (2011). Neural tube defects in Australia: Prevalence before mandatory folic acid fortification. Cat. no. PER 53. Canberra: AIHW. Retrieved 18 March 2018, from https://www.aihw.gov.au/getmedia/af9e9e91-62d5-4873-b15c-6d03b337e9bd/11752.pdf.aspx?inline=true
4. Mayo Foundation for Medical Education and Research (MFMER) (2018). Spina bifida. Retrieved 18 March 2018, from https://www.mayoclinic.org/diseases-conditions/spina-bifida/diagnosis-treatment/drc-20377865
Download Sample
Note: this paper is publicly available & won't pass Turnitin. It can be used just for inspiration.

Thank you!
The download will start shortly.


We can write an original paper on this topic according to your instructions.
Order unique paper
Download