The Difference Between A Bibliography and A Reference List
It is very important to know the difference between the two terms, which are often confused with each other, especially when it comes to nursing paper in APA format. In the bibliography, all the sources are included, which are used to write a particular document. It includes even those sources, which are not cited directly but used by the writers to collect the background information for writing. An extended bibliography shows that the writer has done extensive research for writing this document.
Some institutions ask students to include all the sources in the bibliography, while others require only books and journals. A reference list is the list of cited sources only. All the sources, which you have cited in the text are included in the reference list. A reference list shows the variety of sources, which writer has used. Every entry in the reference list should be included in the bibliography, but every entry in bibliography may not be in a reference list.
What is an annotation? When you write a summary of an article or a chapter of a book in your own words, it is called annotation. You may have to write an annotation of a textbook, a novel or even a website. Teacher give annotation assignments to students to enhance the comprehension and writing skills.
What Is an Annotated Bibliography?
If we try to explain annotated bibliography, annotate means notes and bibliography is the list of sources. So annotated bibliography is the citation of a source with explanatory notes. If you want to write annotated bibliography APA nursing.
You have to be very clear about it, that there is no official annotated bibliography in APA format, although you can find different software, who gives the option to write such bibliography. The annotated bibliography is helpful for the researcher, as it fills the information gaps and reminds them that what was the particular information, they got from this source. There are different forms of annotations:
Indicative annotation: This type of annotation is consisting of one paragraph only, which is 100 to 150 words only. In this brief style of annotation, the scope of the source is mentioned along with the list of important topics. It also describes a little information about the source as well. You can find annotated bibliography nursing example, written in this type of annotation.
Informative annotation: It is also known as a descriptive paragraph. Like indicative annotation, it also consists of one paragraph. It is often used when students write about the research study. It starts with the purpose of the study, brief research design, data collection tools and a summary of key results.
Evaluative annotation: This type of annotation is used when researchers have to evaluate the strengths and weakness of the source. That is the reason, it is also called as assessment or reflective annotation. It can be one paragraph or a few pages.
Combination annotation: It is most common types of annotation used in the bibliography. Content is summarized in a few sentences and a few sentences are used for the evaluation. It is also a brief account, usually 100 – 150 words.
General Steps to Writing an Annotated Bibliography or Reference List
You may be looking for annotated bibliography nursing topics. No matter, what is your topic, you have to write the bibliography at the end. Here are some general steps to write an annotated bibliography.
The first step is to listen to your instructor. Every institution has different guidelines, you have to follow what your instructor tells you.
Cite the source completely, according to the preferred style of your institution. It can be APA, MLA or any other.
In the third step write a summary of the purpose of the article, in one sentence.
Summarize the main points in your own words.
In the last step, you have to be critical and evaluate the positive and negative points of the source.
Things to Keep in Mind While Writing an Annotated Bibliography
After the selection of annotated bibliography topics for nursing, you have to keep these points in mind.
Start the bibliography from a new page.
The bibliography should be at the end of the document.
Leave a blank line between reference an annotation.
Annotation should be indented.
Annotation can be of any length from a few sentences to more than 100 words.
Annotation should be written in the form of complete sentences, using past tense.
Annotation should not contain quotes.
For indicative and informative annotation writing style should be objective and for evaluative, It should be subjective.
Don't talk about the structure of the article.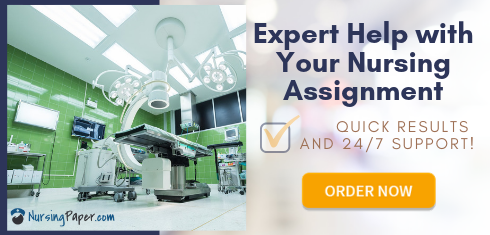 Annotations vs abstract
A summary usually present at the start of an article, published in journals usually, is called abstract. They are a simple description of the article and its findings. Whereas annotation is the critical point of view of a writer about the writing and expressions of a document. You have to understand both of these as after nursing annotated bibliography topics, you may need to write both of them.
The Process of Creating an Annotated Bibliography
Annotated bibliography example APA nursing can help you to create your own annotated bibliography. Here is the process, which you may find helpful. The first step is to find the relevant sources and write their citation. The source can be any, a book, journal, article etc. Select those topics which provide a different point of view on your chosen topic.
Select a particular style and cite all the sources according to that. In the end, write a brief yet precise annotation. It should provide the basic idea of the book or article, it should evaluate the author's background and compare this work with the other one, you have cited. You also have to relate this to the topic of your bibliography.
List Of 20 Annotated Bibliography Topics
A comparative analysis of the toddler's health and breastfeeding habit
Applications of music therapy: Can we use it for young children?
Can we cure depression with different therapies? A case study in elderly people
Heart attack and its causes in relation to the particular age group.
Skin diseases in young people and their relationship with bad eating habits.
Sleeping disorders and increasing use of smartphones.
Bone fractures and its impact on the child's study.
Infections in the premises of healthcare facilities.
Importance of diagnostic tests and services.
Rehabilitation of addicted teens.
Eating habits and their relationship with intelligence.
Awareness about child health in rural areas.
Side effects of vaccinations.
Mental traumas faced by nurses.
Change in the lifestyle of arthritis patients to cure their disease.
How to help mentally challenged people?
Role in nurses in the modern health care system
Can nurses help patients in the absence of doctors?
How minor injuries should be treated without surgery?
Role of management in the provisions of better health facilities to nurses.
Format and Structure of Annotated Bibliography
For an annotated bibliography, you can follow the structure given here.
A citation should be first, followed by the description or commentary.
Commentary should not be more than 200 words; one paragraph is enough for that.
Write concise sentences.
Write in the third person.
References should be in alphabetical order, you can also arrange them in chronological order.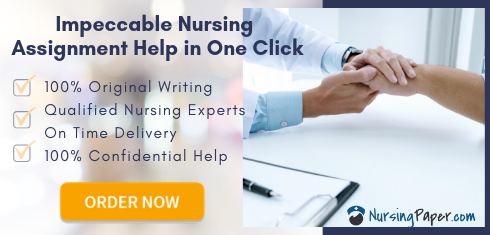 Steps to Follow to Get Started on Your Reference Page
When you start preparing your nursing reference list, following these steps can help you.
Select a topic and find relevant literature.
Collect all the material and select relevant parts. You have to decide those sources, which you actually want to cite.
Choose those sources, which support your topic well.
Arrange the sources in alphabetical or chronological order and write them in the format of your choice,
Write annotation for each citation.
Check citation and its annotation, if there is any mistake in both.
You can follow these steps no matter you are writing a nursing paper in APA format or any other format.
Main Types of Annotated Bibliographies
When you are struggling with nursing research paper writing, it's important that you know about the main types of annotated bibliographies. This information will help you to choose the best one.
Descriptive: This is also called a summary. It is about the main arguments, findings and results.
Critical: It is also called as evaluative. It provides a brief description of the content, strengths, and weakness of the author's point of view, findings according to that and the results.
Combination: It is the combination of descriptive and evaluative and is the most common type of annotated bibliography.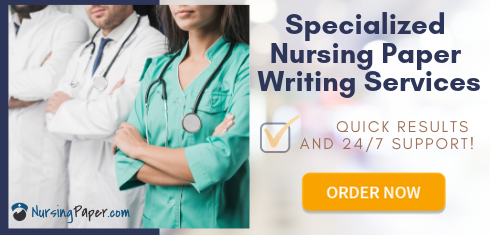 Components of Annotated Bibliography
An annotated bibliography is consisting of two components.
Citation: You have to cite the source in your preferred style. Every institution prefers a particular style, APA, MLA or any other. Find out about that and follow it, strictly.
Annotation: The second component is an annotation. It is a paragraph, which should include,
Information about source
Positive and negative points of the source
Findings
How source is relevant with your topic
Author's background information
Your point of view about the source
You have to keep these points in mind when you are working on nursing practice problems research.
Selecting the sources
If you want to write a great bibliography, you have to select your sources carefully. The bibliography is all about sources. Here are a few points, which can help you to select your sources.
Focus on your problem and the question of your research. What you are actually looking for and what are your questions, for which you need answers? Ask questions from yourself and to find answers, you will find relevant sources.
What kind of source do you need? Books? Journals? Articles?
Do your topic requires essential studies? Reading footnotes can help you.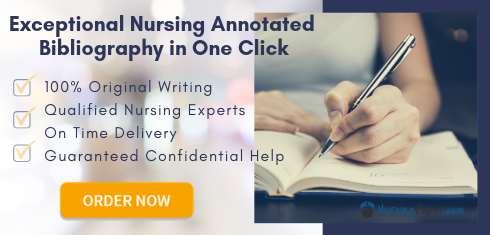 Summarizing the argument of a source
The argument of the source is restated in annotation, but very briefly. If you are writing an annotation of an academic document, it will start with the hypothesis, investigation methods, and the findings. To enlist the content is different and to summarize the argument of the source, both are different things.
Benefits of Our Services
We offer nursing essay help for our clients. We work with a team of professional writers, who are well qualified and highly experienced to write essays and other academic documents. They can write annotated bibliographies with perfection. You can select the citation style and we can write the annotation according to your choice. We have experts, who provide nursing assignment help as well. If you are confused about content or have limited time to complete the assignments, we can help you in the matter how short is the deadline. We offer quality writing services at an affordable price. You can take advantage of discounts as well.
We can write your annotated bibliography APA nursing. Contact us for quality writing services at an affordable price. Call us now!